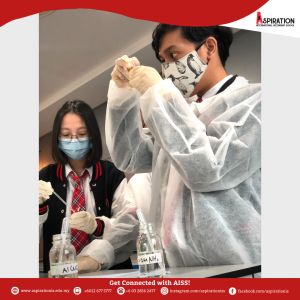 What should have been a common sight in schools has now become a very rare occurrence.
With the various movement controls being put in effect, attending normal classes seems to be more distant from reality, not to mention performing science experiments.
Looking at them investigating hypotheses, planning experiments and handling the apparatus and materials seem so surreal.
One thing that we can learn is to not take the simple things like these for granted.
AISS strives to make sure that its students do not miss a beat in their education throughout this pandemic.
Title of the experiment : Identifying anions and cations
Subject : Chemistry
Class : Year 11
Ask your question here!
January Enrolment is open!
Are you looking to switch your child to the English medium of instruction?
Try out our classes for FREE.
Fill up this form (https://bit.ly/preappplicationAISS) and we will get in touch with you to invite your child to join our classes.
Contact us with any additional questions:
Hotline: 012 677 5777
Email: chairman@aspirationis.edu.my
We are looking forward to meeting you at AISS!